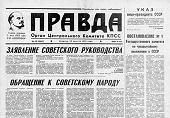 This morning SophosLabs noticed, via feedback from installation of WS1000 web security appliances, that the website Pravda.ru (which coincidentally celebrated its 10th birthday yesterday) has been serving up malicious content (Mal/Iframe-F).
That doesn't seem a great way to celebrate your website's birthday with your many readers.
>>> Virus 'Mal/Iframe-F' found in file ad.pravda.ru/cgi-bin/iframe?7,7,*
The good news is twofold:
that the website the Iframe is pointing to is currently not serving up further malware, however, that may not always have been the case.
Firefox 3.0 will warn you that the site is a suspect attack site.
Pravda, which means 'The Truth' in Russian, is not the only site that has malicious iframes and will not be the last.
SophosLabs recommends that webmasters keep their servers patched and updated, and remember to monitor their servers logs for suspicious activity.