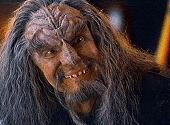 Pardon me for interrupting the normal stream of security-related stories here to ask something a little out of the ordinary, but I figured you folks wouldn't mind.
Do you speak Klingon? Actually, most importantly, can you translate things into Klingon?
If so, you could be the person I'm looking for.
This is a serious request.
So.. if you can translate things into Klingon please contact me, preferably attaching an example of your work, so I can work out if you're the person I need.. or let me know if you can point me in the right direction of a good Klingon translator.
Genuine applicants only please. Thanks for listening, and there might be a Sophos T-shirt and other goodies in it if you help. 🙂
Update: Some people have asked why I'm only offering a Sophos T-Shirt for the hard job of doing some Klingon translation. Let me reassure the successful applicant: there will be money in it for you.