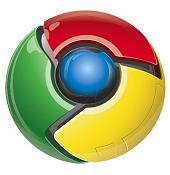 The Google Chrome web browser has been updated to fix a "high severity" security vulnerability that could be exploited by data thieves.
Version 1.0.154.46 of Chrome fixes a few security issues – including one involving the Adobe Reader plug-in that could allow a maliciously-crafted PDF file to run scripts on websites, and another which allowed malicious website script to read sensitive information (which could assist identity theft) from another frame.
So far, so normal. An important update and you should apply it. Hopefully if you're clued-up about computer security you're ensuring that you are keeping yourself informed of all the latest patches and fixes to your favourite applications and plug-ins. With web browsers it's particularly important, of course, as so much malware today arrives via the web.
But what was particularly interesting to me was another fix that is contained in this version of Chrome. Apparently it also fixes a compatability issue that has been plaguing people who have been trying to use Google's browser to access Hotmail.
And how have the wizards at Google who write the browser fixed this problem? Well, when Chrome now visits urls that end with mail.live.com it sends a user agent string to pretend that it's Apple's Safari browser instead!
For its part, Microsoft says that it will roll out a new version of Hotmail that is properly Google Chrome compatible.
The guys at Google and Microsoft have been involved in what looks suspiciously like a minor cat-fight about which of them has done a better job at dealing responsibly with the Chrome/Hotmail incompatibility.
Come on boys – put down your handbags.