In what may be the biggest false alarm the world has ever seen, Google labelled the entire internet as potentially virus-infected yesterday.
For about 45 minutes, users of the world's most popular search engine were seeing erroneous messages of "This site may harm your computer" alongside the results of every search query.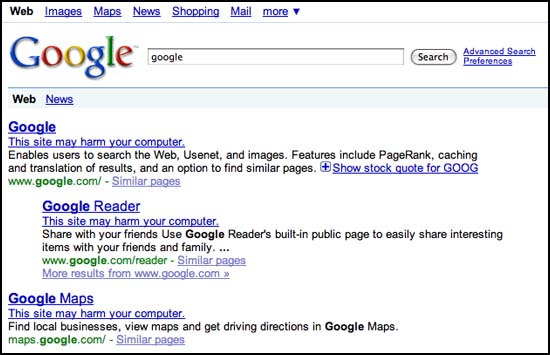 Of course, warnings like these were not going to go un-noticed and millions of people blogged, instant messaged and Tweeted what they were seeing.
To their credit, Google moved quickly to fix the problem and posted an explanation, apologising for what they described as a "human error". By being open about what had happened, and not trying to sweep details under the carpet, they behaved appropriately. No-one is going to stop using Google because of this.
Of course, most clouds have a silver lining, and it's possible that a proportion of people will have been spooked by the warnings into scanning their hard drives to see if a website had managed to infect their computer. Chances are that some of those users checking their computers for malware will actually have found something they didn't know was present, and cleaned themselves up.
I'm not suggesting that Google should make a human error more often, but their accident may just have helped raise awareness of some of the serious security issues that plague computers.
PS. Of course, it was pretty brave of me typing "Google" into Google..