I'm in Cupertino this week attending the latest AMTSO meeting. Last October Sophos hosted the meeting where the Best Practice guidelines and Dynamic testing documents were ratified.
This time the meeting is being hosted at Symantec's headquarters in Cupertino and the aim is to put more detail onto documents about "in the cloud testing", "reviewing reviews" and "obtaining malware samples".
This morning focused on "obtaining malware samples" and we had a good time discussing both the practicalities involved as well as the pitfalls. It is a challenge for everyone to obtain malware samples without becoming part of the problem of spreading malware.  There are also ethical concerns around the handling of samples. What started as a very small document is going to become something much bigger.
There are over 40 attendees here and I had one of those moments of serendipity this morning. We were all introducing ourselves and just before it was my turn to speak I received the email telling me that Sophos has been awarded another VB100 which was really pleasing to receive and announce to everyone!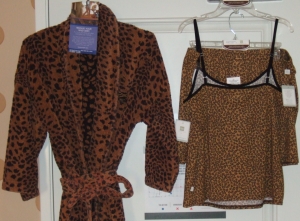 The two days will be fairly intense but there will be lighthearted moments.
Tonight the conference dinner will be at the computer museum nearby where we have been assured that they will be starting up the Charles Babbage Difference Engine No. 2 for us to see in action!
We're all staying at the Cypress hotel next door to Symantec's headquarters. It's a good hotel with a leopard theme. The picture shows what is to be found in the closet when you arrive.
I'm just hoping no-one has the idea of a leopard skin party for the evening. I don't think it's me!