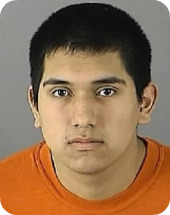 Police have accused a teenager with sexual assault after he allegedly posed as a girl on Facebook, encouraged 31 classmates to send him naked photos, and blackmailed them into performing sexual acts.
18-year-old Anthony Stancl of New Berlin, Wisconsin, has been charged with five counts of child enticement, two counts of second-degree sexual assault of a child, two counts of third-degree sexual assault, possession of child pornography, repeated sexual assault of the same child, and making a bomb threat.
All 31 boys attend New Berlin Eisenhower Middle/High School, according to Waukesha County District Attorney Brad Schimel.
There's much more detail about this horrific case in a report by the Milwaukee-Wisconsin Journal Sentinel newspaper, but I think for the purposes of this blog the most relevant element to focus on is the issue of people disguising their true identity on Facebook.
We should all know by now that it's trivial to create a fake profile on Facebook.
Sophos itself registered a bogus Facebook user (using the image of a small plastic frog called Freddi Staur) when it conducted an investigation into identity theft on Facebook.
So, there's no doubt that there are plenty of "female" profiles online that are in reality men (and probably vice versa) using photographs that they have stolen or downloaded off the internet.
Even if you recognise the name and picture of someone you know on Facebook, you can't necessarily be certain that it is the person you think it is, unless they have confirmed it to you face-to-face. This has been brought to more people's attention recently with the rising number of reports of accounts on Facebook and other social-networking sites being stolen by scammers, phishers and malware authors.
And there is an issue for parents here too. Can you be confident that your children are behaving safely on the internet and not getting themselves into hot water?
Young people need to learn how to use the internet sensibly and be made aware of the risks that are present when they login. The alternative is that we are bringing up a generation of youngsters who are not just comfortable using the internet, they're too comfortable.
If convicted, Stancl faces a maximum sentence of 293 years in jail.