Was a US delegation's security threatened by careless use of Twitter?
All computer users need to be aware of the far-reaching consequences associated with the irresponsible use of social networking sites like Twitter, following news that a high ranking member of the US House Intelligence Committee tweeted details of a secret congressional visit to Iraq.
According to reports, Representative Peter Hoekstra tweeted his arrival in Baghdad via his BlackBerry with the following post: "Just landed in Baghdad. I believe it may be first time I've had bb service in Iraq. 11th trip here."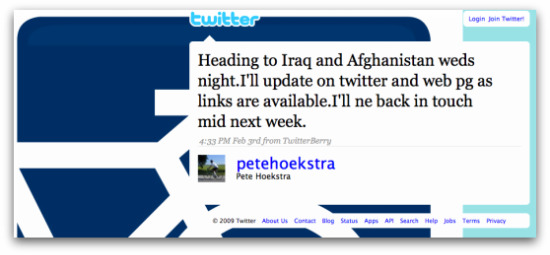 Hoekstra had announced the trip in advance via his Twitter page and continued to post details about the party's itinerary every few hours, until the morning of Friday 6th February. His last post read: "Moved into green zone by helicopter Iraqi flag now over palace. Headed to new US embassy Appears calmer less chaotic than previous here [sic]."
It seems to me that this was a serious security blunder by the US government – the Republican congressman is not only putting himself at risk with his careless Twittering, but also the people tasked with protecting him.
Although sites like Twitter are evolving into great networking tools, security and common sense is crucial: even more so when you are a high ranking government official. In Hoekstra's case, a foolish security breach like this had the potential to be a deadly gift for criminals.
Users must be more savvy about the content of their posts and the way in which they use these social networking sites – with sensitive information like this in the public domain, who knows what could have happened.
Although it's unclear whether Hoekstra broke any laws by revealing the information, the fact remains that the congressional delegation's visit to the war zone last week should probably have been kept secret for obvious security reasons. Even US media outlets, like the Congressional Quarterly, that knew of the trip agreed to keep information under wraps until the party left Iraq.