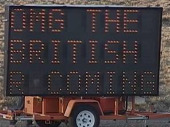 First there was a warning that there were zombies on the road ahead, now another hacked road sign is spreading news that the British are invading America.
According to media reports, an electronic road sign being used by construction workers in Lubbock, northern Texas, was hacked on Friday to display the message: "OMG THE BRITISH R COMING. THEY R WATCHING YOU."
My guess is that this is a copycat attack, inspired by the high amount of media coverage received by the hack of another road sign in Austin, Texas, in late January, which warned "Caution! Zombies Ahead!" and "Nazi Zombies! Run!!!"
Hacks like this might seem like harmless fun and I don't want to sound like a killjoy, but you can imagine how messing around with road signs could actually lead to a dangerous accident – either for the people doing the roadside hacking or for innocent motorists.
The companies putting these signs by the roadside need to take better care to secure them (both physically and with hard-to-guess software passwords) before the craze of road sign hacking becomes an epidemic.