At the time of this writing, the House of Representatives in the United States has just passed the stimulus bill. The bill still awaits the approval of the senate and signing by President Obama before it can be enacted.
Given the context, I was surprised to see the following email arriving at our spamtraps yesterday, even before Congress has passed the bill: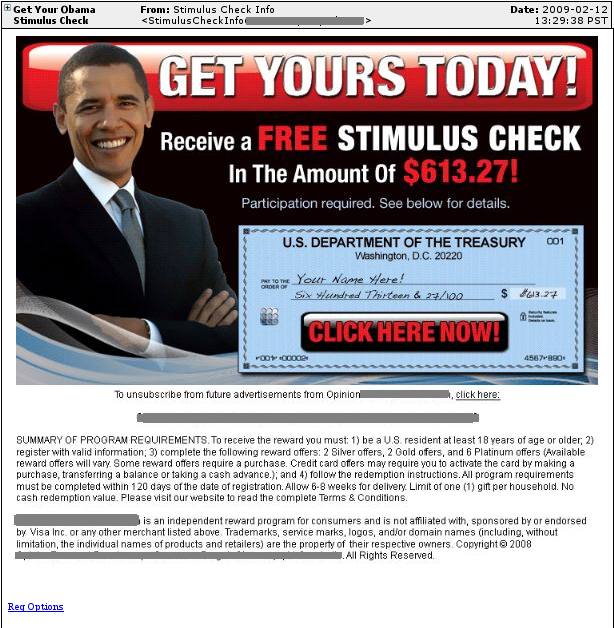 It would seem that the spammers were a little pre-mature in sending out the Stimulus check spam. One of the enigmas here is the value of the check, $613.27. I did a web search and I could not find even a passing mention of this amount. Viewers of the spam would just have to wonder where that value came from.
The telltale sign of this message being spam is the small-lettered "summary" below. First it says that the check recipient must be an US citizen 18 or older, register with valid information, and complete 3 reward offers (2 Silver offers, 2 Gold offers and 6 Platinium offers) – whatever those reward offer implies. That alone already sound suspicious. The next few sentences should scream "Warning! This is a scam!" if one reads carefully:
"Some reward offers require a purchase."
and
"Credit card offers may require you to activate the card by making a purchase, transferring a balance or taking a cash advance."
Even with a mounting debt, I doubt any government body would require their citziens to jump through hoops and make a purchase before they can receive a check. Besides, isn't the purpose of the stimulus check to give citizens a chance to revive the economy through spending? Why would citizens need to spend money in order to get money to spend? The whole logic here is downright convoluted. Hopefully, recipients of this email would not be easily persuased by the mere promise of a free stimulus check, no matter what their current circumstance is.