Last year, candid photographs of Hannah Montana star Miley Cyrus were posted on the internet after a hacker broke into her email. Now it seems she's been hacked again – but this time it's her Twitter account that has been compromised.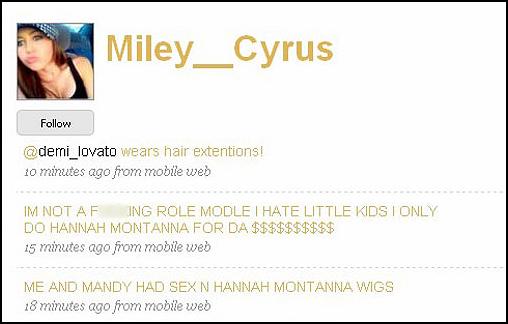 It appears that Miley, daughter of "Achy breaky heart" legend Billy Ray Cyrus, wasn't taking enough care over her password security as someone was able to break into her Twitter account and peppered the page with a number of poorly-spelt offensive messages, such as:
"IM NOT A F**CKING ROLE MODLE I HATE LITTLE KIDS I ONLY DO HANNAH MONTANNA FOR DA $$$$$$$$"
and
"I HATE SELENA GOMEZ AND WHEN HER AND NICK WERE TOGETHER I SENT HIM PICS OF MY C**T!"
The staff at Twitter appear to have responded quickly to the defacement, and shut down Miley Cyrus's Twitter page.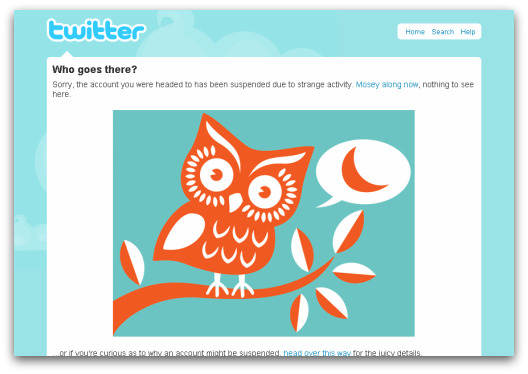 It's great that Twitter took prompt action – but wouldn't it be good if Twitter did more to secure their growing millions of users? If they forced users to use more sensible passwords, for instance, that could make it harder for hackers to break in.
Of course, Miley Cyrus is far from the first celebrity to have had her Twitter updates hacked by cybercriminals. Last month we detailed how Britney Spears, Barack Obama and others had their Twitter accounts compromised after a lapse in security by Twitter staff.
Maybe the teenage singing star's Twitter activities will resume once she's learnt some basic rules of computer security. That's after she's learnt the lyrics to her latest single of course…