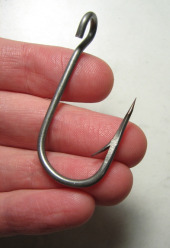 A man who helped steal €12,000 from Irish bank accounts through a phishing email campaign has managed to avoid being sent to jail.
Dublin Circuit Criminal Court imposed a three year suspended sentence on 38-year-old Eghosa Aigbe after he was found guilty of transferring €12,000 from a woman's Bank of Ireland account without authorisation in August 2006.
When staff at the Kilkenny Bank of Ireland contacted their customer she confirmed that she had not transferred the money, but had recently responded to a bogus phishing email purporting to be from her bank, which had asked her to verify her account details.
Aigbe was identified by police from CCTV footage of him at another branch of Bank of Ireland, opening an account in the false name of Nosa Peter.
What's particularly interesting about this case is that police agreed with Aigbe's defence team that he was not aware of the phishing email, and was not its creator.
In other words, Aigbe was a money mule – used by a phishing gang to move money from a phished account into another. Although Aigbe was obviously not the brains behind the phishing operation, he did still open the account and withdraw the money.
It is increasingly common for criminal gangs to hire mules to do their dirty work from them. Mules are sometimes even fooled into believing they are working for a legitimate organisation, moving money out of one account to put it in another. Of course, there are also mules who undoubtedly realise that what they are involved in is shady to say the least..
To stay out of jail, Aigbe will have to perform 240 hours of community service.
More information about the case can be found in a report in the Irish Times.
* Image source: L Marie's Flickr photostream (Creative Commons 2.0)