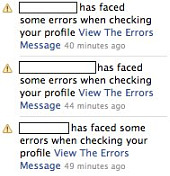 Some Facebook users were bombarded with bogus warnings this weekend saying that friends had had problems viewing their profile. The reason? A rogue Facebook application called "Error Check System" that was sending misleading notification messages.
The typical warning read:
[Name] has faced some errors when checking your profile View The Errors Message
Of course there was nothing really wrong with the recipient's profiles, and the misleading notifications were an attempt by a third party Facebook application to recruit more users, and – potentially – steal personal information from profiles.
I say potentially steal personal information because at the moment we haven't got any evidence that that is what the developers of this application were trying to do, rather than use a rather underhand "viral" method to of spreading their application and worming itself across the Facebook system.
Of course, "Error Check System" is not the only Facebook application to try and increase its popularity by sending messages to your friends and family – but it is particularly sneaky presenting itself as an error message about the recipient's profile.
This is an important reminder to all Facebook users that they must exercise caution about which third-party applications they install on their profile, and everyone should remember that Facebook does not approve applications before they are made available on their site. You really are putting your trust in complete strangers when you add that next application to your Facebook profile.

How to remove Error Check System from your Facebook profile
If you have mistakenly installed the "Error Check System" Facebook application, here's how you can remove it:
Click on "Applications".
Then click "Edit" in the top, right-hand corner of the Applications pane.
Locate "Error Check System," then click the "x" beside it to remove the application.
A window will appear confirming this action. Select "Remove" to completely remove the application.
You can read more about the "Error Check System" Facebook application on Josh Lim's blog, and a variety of groups have sprung up on the social networking site warning of the threat.
Important update: Read about the sting in Error Check System's tail before you search for more information about it on the internet.