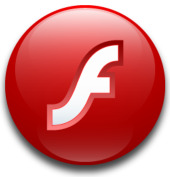 Adobe has shipped an update to its Flash Player which reportedly patches a number of critical security flaws. As Flash is so widely used it is essential that companies and individuals update their installations of the Flash Player at the earliest possible opportunity.
If you don't patch your systems there is the potential for hackers to carefully craft malicious Flash movies that they would embed on websites, and infect your computer as you visit the site. Another vulnerability patched in the latest update addresses a potential clickjacking exploit.
According to Adobe's security bulletin, users of Adobe Flash Player 10.0.12.36 and earlier are advised to upgrade to version 10.0.22.87.
People who are still using Flash 9 are advised to update to version 9.0.159.0 of the Flash Player.
One thing that's important to realise about these security vulnerabilities is that they don't just affect Windows users. Fans of Mac OS X and Linux should also update their installations to avoid exposure to possible attack by hackers.
Users who are unsure as to which version of Flash they have installed are advised to visit this link.