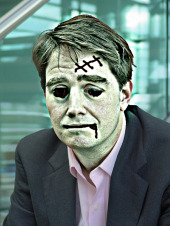 You may be wondering why I've turned myself into a zombie.
Well, it's in honour of National Zombie Awareness Week in Australia, which is highlighting the problem of compromised computers (known as bots or zombies).
Zombie computers can be invisibly controlled by criminal hackers to launch distributed denial-of-service attacks, spread spam messages or to steal confidential information.
Anything which raises awareness of this problem, and encourages home users and businesses to better protect their computers with anti-virus software, security patches and firewalls is a good thing from our point of view, so Sophos is proud to be one of the supporters of this initiative.
It's important to realise that zombie computers and botnets aren't just a home user problem. As spammers become more aggressive, collaborating with virus writers to create armies of zombie computers, legitimate organisations with hijacked computers are being identified as a source of spam. This not only harms the firm's reputation, but can also cause the company's email to be blocked by others.
Sophos ZombieAlert™ advises service subscribers when any computer on their network is found to have sent spam to Sophos's extensive global network of spam traps, and provides rapid notification to customers if their Internet Protocol (IP) addresses are listed in public Domain Name Server Block Lists (DNSBL). This information helps customers locate, disinfect, and protect these systems from future attacks.
If you're not currently a user of Sophos's anti-malware solutions and you may also want to quickly check your computer system for infection: Download the free Sophos Threat Detection Test.