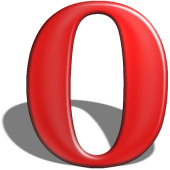 With most of the world using Internet Explorer and Firefox to surf the web, it's all to easy to think that those are the only browsers which suffer from security problems.
Users of alternative browsers like Google Chrome, Opera, Safari and others also have to keep their wits about them and ensure that they are patching themselves against the latest security vulnerabilities before a hacker takes advantage of a flaw.
That's the message being sent out to Windows users of Opera, who are being advised to update their browser against a number of vulnerabilities that could expose them to hackers crafting malicious JPG graphic files that could execute dangerous code and cross-domain scripting attacks.
Opera may be targeted less often than some of the other browsers out there because of its smaller user base, but that doesn't mean it is invulnerable from attack. Users would be wise to update their installations at the earliest opportunity.