This week tickets for a series of Michael Jackson concerts at the O2 Arena (formerly the Millennium Dome) in London sold out in next to no time. The controversial pop superstar claims that the concerts, which will earn him more than $50 million, will be his last ever in London. Will you be there?
Tell me I'm not dreaming, but it appears that a celebrity whose career was consigned to history a few years ago, seems to be on the up. I just don't get it.
Anyway, it's not the self-proclaimed King of Pop who is trying to make some handy ready money out of the fanatical following of his loyal fans.
Lets look at Jackson's website, for instance, at www.michaeljackson.com.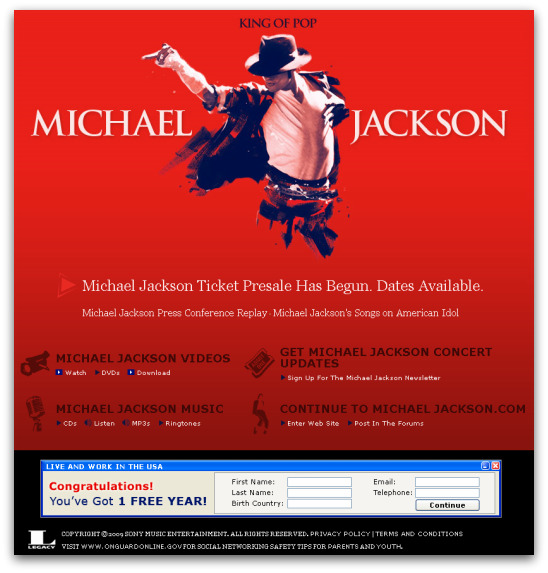 At the bottom you'll see a banner advert inviting people to live and work in the USA. The advert is served up by a division of Jackson's record company, Sony BMG, who themselves get it from an advertising network called Advertising.com. Nothing bad or dangerous so far.
But what I'm especially interested in is what happens when you click on the advert. You get taken to a website called www.usafis.org, which offers you the opportunity to enter the lottery for an American Green Card (essentially the authorisation to live and work in the United States).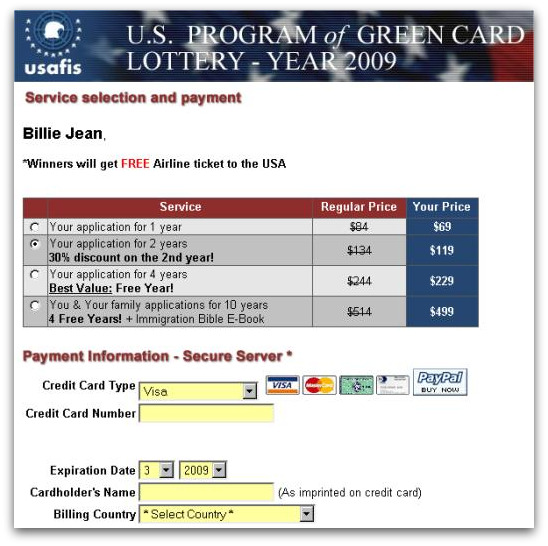 And there, in black-and-white, the website claims that it can help you get your Green Card through the Diversity Lottery (DV) scheme that awards 50,000 immigrant visas to the United States each year.
And if you do fill in the form with your details, you'll find that Usafis will charge you between $69 and $499 for the privilege.
Does something smell fishy to you? Well, you are not alone. I can't help it, my cynical human nature kicked in too, and a quick bit of Googling discovered that there's no requirement to pay any money to enter the Diversity Lottery. The thing is – this isn't a lottery that can be rigged. People wishing to fast-track their entry into the States may think that paying money is a way to beat it, but it won't help.
In fact, the US Department of State on its website warns about companies that "charge money to 'complete' lottery forms".
Personally I'd be cautious of giving them my credit card details and personal information in the first place – but even if they do respect my privacy, keep that data securely and don't plunder my bank account, I still wouldn't be happy with being charged with something I didn't need to pay for.
Competition time!
PS. I've 'hidden' some Michael Jackson song titles in this blog entry. The first person to find them all and email me the answers will win a fabulous and very exclusive Sophos t-shirt as a prize. 🙂 Warning – some of them are a little obscure! Sorry, this competition is now closed – see the answers here
Update: Since I wrote this blog entry Clu-blog reader Kay of Server Management magazine has been in touch to point out that it would be pointless for mainland UK readers to fill in the form anyway, as they are not eligible to enter the lottery. The US has published a list of those countries whose citizens are not eligible for those who are interested.