Sophos's UK offices held a company-wide event today, with many staff dressing up in unusual clothes in support of Comic Relief's Red Nose Day.
(Enjoy this video? You can check out more on the SophosLabs YouTube channel and subscribe if you like)
As part of the fundraising we had a Bouncy Boxing arena in our atrium, with prize fights being auctioned off to the highest bidder. Highlights included CEO Steve Munford being trounced in the ring by James Vyvyan from Sales, Wendy "Catwoman" Dean taking on the might of IT Director Charles Southey, and a strange group of cross-dressed test engineers in fetching dresses who had had their legs waxed for the charity.
Meanwhile, salesman and Kung Fu master Jer Jang gave an impressive demonstration of his Bruce Lee moves.
In all, staff have raised almost £4000 for Red Nose Day so far. It's a great charity, so please support it if you can.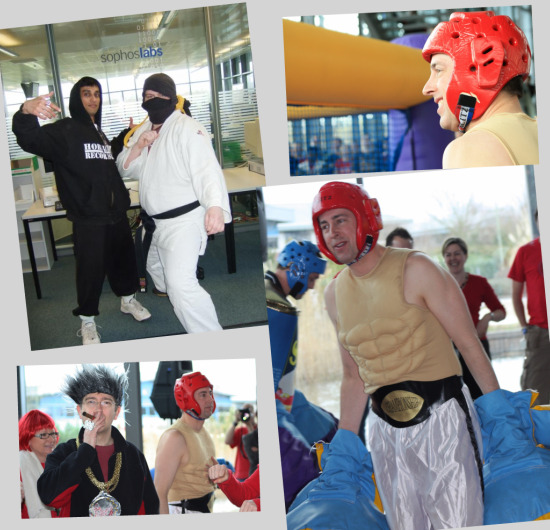 There are some more fantastic photographs of the event to be found on Flickr, taken by our very own Paul Beet.