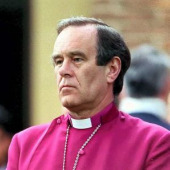 According to media reports, a virus has been found on the computer of Nigel McCulloch, the Bishop of Manchester, removing his ability to send or receive emails since 3rd March.
Furthermore, technicians brought in by the Church of England to investigate the malware incident claim that a "significant" number of the 6000 emails sent by the Bishop in the last 10 months are likely not to have been properly delivered. Ironically, the Bishop of Manchester also acts as the Church of England's communications spokesperson.
Manchester is not the only victim of the malware attack it seems. The un-named virus is also said to have affected PCs belonging to the Bishops of Bolton and Middleton, as well as the central offices of the Diocese of Manchester and its Archdeacons.
The Bishop of Manchester is no stranger to making the headlines on technology-related stories. In June 2007 he caught the attention of the national media after he complained about a Sony PlayStation video game called "Resistance: Fall of Man". One of the game's levels included a photo-realistic shoot-em-up sequence where players had to kill aliens inside Manchester Cathedral.
Sony subsequently promised never to set another video game within Manchester Cathedral. So there goes my hope of Grand Theft Altar.