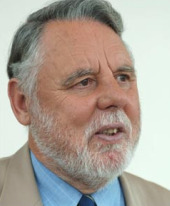 It's hard to imagine a more bizarre trio, but Terry Waite has lined himself up with Sting and London's gaffe-prone mayor Boris Johnson by coming out in support of Gary McKinnon, the British hacker facing extradition to the United States.
According to media reports, the former Beirut hostage has called on the American authorities to drop their attempts to prosecute McKinnon, who has become a famous figure in the IT world after he admitted breaking into sensitive US military networks.
According to Waite, who now campaigns for human rights, the US military should thank McKinnon for exposing its weak computer security. Referring to McKinnon's recent diagnosis with Asperger's Syndrome, the former Church of England envoy said "No nation under the sun ought to convict an individual whose behaviour is occasioned by illness."
"Was Gary a spy? Was he attempting to bring down the mighty military force of the USA? As far as I know he was not. He was simply looking for little green men," continued Waite. "Anyone who has the slightest acquaintance with [Asperger's Syndrome] will know that while the sufferer can be, and indeed often is, brilliant in certain logical processes they can become irrationally obsessive in other directions."
McKinnon has claimed that he was only hunting for confidential information about anti-gravity propulsion systems and UFO technology which he believed the authorities were hiding from the public.
It seems to me that McKinnon is rapidly running out of options in his attempt to avoid extradition to the United States. It remains to be seen whether Terry Waite's statements are likely to hold much sway over the legal processes that appear to be dragging McKinnon relentlessly towards the departure gates of Heathrow airport.