Mark Perrow, the executive producer of the controversial BBC Click documentary about botnets, published his justification for the programme on the BBC website.
It's well worth reading if you're interested in understanding the BBC's opinion, and checking out other people's responses, as rather nicely they also gave people the ability to leave comments. And so, naturally, I did.
Anyroad, I just received an email from the BBC website.

At first I thought there was a mistake, but sure enough my response to Mark's post has been removed from the BBC site by its moderators.

This baffled me a little as I couldn't remember being racist, sexist, homophobic or any of those other things in my posting.
I can't find anyway to appeal to the BBC's moderators to reconsider, and I'm somewhat in the dark as to what in particular they didn't want their visitors to read. If anyone has any ideas, please let me know.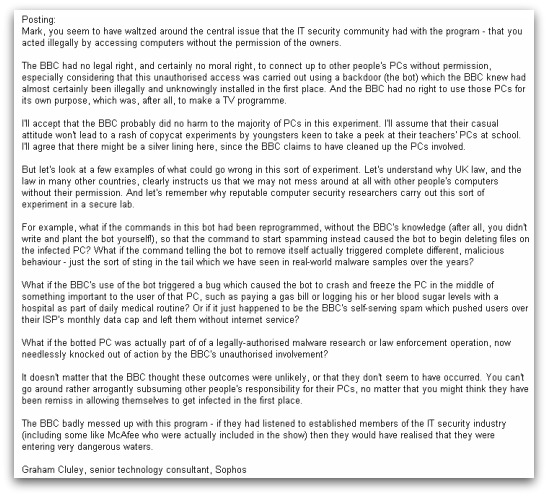 Fortunately, it seems the ban is only from talking about this subject as BBC News Online is linking to the Clu-blog about the Natasha Richardson scareware attack this morning.
Which is nice of them, as I love the BBC. I think they're terrific and wouldn't want to think that I've upset them.
Anyway, there's more important things to worry about than the BBC's bonkers botnet experiment. Let's move on.