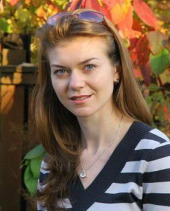 As if my life wasn't complicated enough trying to choose between two Russian women, a third has entered the ring.
Meet Evgeniya, who has just sent me an email out of the blue. She has carefully chosen me out all of the millions of people on the internet, as she would "like to begin our acquaintance".
But let's let Evgeniya tell her story in her own words:
I would like to begin our acquaintance, with the small story about me. My name is Evgeniya. To me 28 years. I the quiet, young, purposeful girl. I conduct a healthy way of life. I do not smoke and I do not take alcohol. I have work which very strongly I love. But I do not have not enough love. I am assured, that on our planet, there is a person who can present to me happiness and love!
I search for the real man who will love, and to respect me. I consider, that this main thing in relations. I would like to find out you in more details. I wish to get acquainted with you more close, by means of e-mail. It will be for us easier variant.
Ahh, you can just imagine the twinkling sound of balalaikas as the wind blows over the Urals can't you? Well, don't get too misty-eyed if you receive an email like this, because it's unlikely that Evgeniya (or, chances are, the burly Russian walrus-moustached fraudster who is hiding behind her picture) has your wellbeing foremost in her mind.
You should never reply to emails like this, even if you are feeling downtrodden and heartbroken. There have been plenty of examples in the past of people who have been fooled into cyber-relationships, only to find their bank accounts emptied, their identities stolen, or a nasty dose of malware in that next photograph they send over.