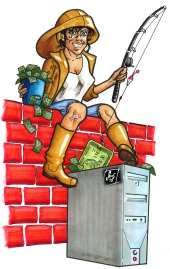 Earlier this week I blogged about how Thomas Taylor Jr, a member of an ecard identity theft gang that targeted users of AOL, had managed to escape a spell in prison.
One of Taylor's co-conspirators, Charlie Blount Jr, wasn't so lucky and has been sentenced to four years in jail after pleading guilty to conspiracy to defraud.
25-year-old Blount worked alongside other members of the gang scooping up the email addresses of AOL customers, and then sent them bogus electronic greeting cards with the intention of infecting them with malicious software. The malignant code displayed a fake message claiming to come from AOL, demanding security information such as bank account details, social security numbers, names and addresses.
Counterfeit bank cards were then created using the stolen information, and accounts raided.
In addition to his prison term, Blount has been sentenced to three years on probation.
Young men like Blount and Taylor are playing with fire when they get entangled in the world of cybercrime. They're not only risking their own liberty by breaking the law and stealing identities, they're also at risk of casting a long shadow over the rest of their lives. Aspiring cybercriminals needs to think long and hard about the consequences of their illegal actions – and stop believing that somehow a crime committed across the internet is somehow less serious than one conducted face-to-face.
The gang's ringleader, Michael Dolan, was sentenced to 84 months in jail in late 2007.