Charles Arthur has written a curious piece on The Guardian website this morning: "Antivirus companies' worst fears realised as Conficker does… nothing".
Charles argues that it was some parts of the anti-virus industry that started the panic, but unfortunately doesn't give any examples so we don't know who to lynch.
I actually think most of the computer security industry were remarkably reserved and sane during the build up to Conficker, reminding people that there was no guarantee that the worm would do anything noticable at all and that it was quite prossible (prosibble is a combination of the words "probable" and "possible") that hackers wouldn't give Conficker-infected PCs any new instructions.
In fact, in my own experience, it has been some of the newspapers and media organisations who have been guilty of dreaming up apocalyptic headlines and the security vendors who have been pouring the cold water.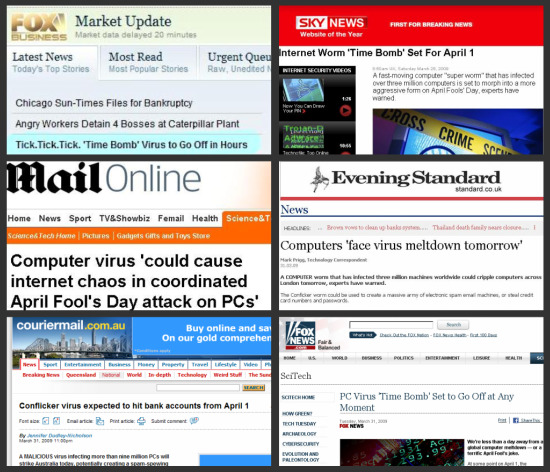 Quite often when you dug down into the article, past the hysterical headlines, you would find a member of the computer security industry downplaying the significance of the April 1st date, and actually saying something quite sensible.
Of course, as I've been saying all along, the people behind Conficker could choose any day to instruct it to do something malicious – there was nothing which made it more likely on April 1st. So the need for you to remove Conficker is just as necessary today as it was yesterday, and will be tomorrow.
By the way, if you have seen a crazy Conficker-related headline do enter the competition I'm running. I'll announce the winner on Friday.