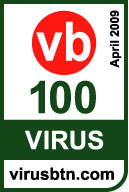 Those charming folks at Virus Bulletin magazine (well, we think they're charming when they give us nice reviews) have just published details of their latest comparative test.
Virus Bulletin tested 39 products from 34 different vendors, examining their ability to detect 100% of the in-the-wild viruses without false alarming – this time on the Windows XP SP3 platform. This is the 46th time Sophos has won the VB100 award for its protection capabilities from Virus Bulletin.
Virus Bulletin also ran their new RAP ("Reactive and Proactive") test, helping readers form a better impression of the heuristic and generic proactive detection capabilities of security software – specifically how well products perform against the malware that has appeared after vendors submitted their products for the test.
You can find full details of the review in the April 2009 edition of Virus Bulletin magazine.
And if you're interested in reading more details of RAP testing, check out this article from the February 2009 edition of Virus Bulletin. (Free registration required).