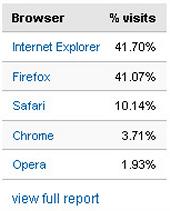 Angela Moscaritolo reported in SC Magazine last night that Internet Explorer's marketshare has dropped considerably in the last 12 months.
Who's eating away at Internet Explorer's chunk of the browser market? Firefox, Safari and Chrome it seems, according to the statistics produced by Net Applications.
Net Applications have still put Internet Explorer in a comfortable first place at 66.8% to Firefox's 22%, but it does seem that Internet Explorer popularity is on a steady decline.
I'm pretty interested in this, so I thought I would look at the statistics for people who come to the Clu-blog.
You would expect people visiting this blog to be more aware of security issues than the typical guy in the street I would argue – and so it's interesting to see what that threat-conscious audience is running as their browser.
And it reveals something quite significant.
As you can see in the graphic, Internet Explorer and Firefox are just about neck-and-neck when it comes to visitors to this blog with 41.70% and 41.07% respectively.
Why is this interesting to us? Well, so much malware is distributed via the web today, and one of the tricks that hackers use when trying to infect your computer is to exploit vulnerabilities in the software running on your PC or Mac.
Although there are plenty of attacks which use social engineering to fall you into making a bad decision – and these typically don't rely upon a software security hole – we're seeing constant evidence that hackers are not just targeting Internet Explorer users. As more and more users switch to alternative browsers like Firefox we're likely to see even more cybercriminals hunt for holes in the software that they can use to infect your computer.
So, don't make the mistake of thinking that by not using the "default" web browser, PDF viewer or operating system that you're somehow immune to attacks. There may be less arrows being thrown at you at the moment, but it's still going to hurt if you get hit.