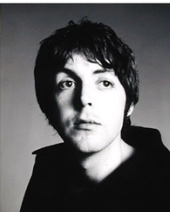 I have been on holiday for a couple of days, so sorry if the Clu-blog has been a bit quiet.. but I thought this story was worth a mention.
Paul "Thumbs aloft!" McCartney has had his website hacked according to media reports.
The Fab one, known to his millions of fans as "Macca", apparently had his website fall foul of an obfuscated Javascript that was designed to spy on computer users as they went about their online banking.
Intriguingly, the hack occurred shortly after McCartney made a rare appearance onstage alongside fellow Beatle, drummer Ringo Starr. It wouldn't be too far fetched to imagine that the hackers may have deliberately timed their attack to capitalise on interest in the former moptops.
McCartney, widely considered to be the best drummer in the surviving Beatles, is of course not the first world-famous brand to be hit by a website attack. Previous examples have included the likes of Sony PlayStation.
Everyone needs to remember that the old days of only getting infected if you visit the seedy areas of the internet are long gone. You can be visiting legitimate well-known company's website, or that of a celebrity like Paul McCartney, and still fall foul of an infection.
So, if you own a website – big or small – make sure you are doing everything to keep it as secure as possible. If you haven't already done so, read this informative paper by SophosLabs, "Securing websites", which covers some of these issues.
And if you're just a humble web surfer, or look after a company with many people surfing the internet, make sure that you are properly defending them from these kind of attacks with a comprehensive web security solution.