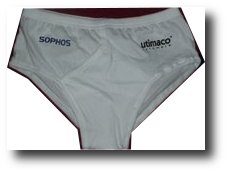 Yesterday, I wandered around the first day of InfoSec Europe . I have been visiting InfoSec for the last 10 years and this was the first time at Earls Court. Maybe it was the fact that RSA had just happened or the credit crunch was biting but this year I felt the mood was subdued. In fact you could say InfoSec was pants!
Last year, all the buzz seemed to be about NAC and a large number of stands were solely pushing NAC. This year there was no definite theme though there was an undercurrent of Data Leakage Protection (DLP). At the Sophos stand (G50) you can collect a Data Leakage for Dummies book (or apply online).
Today, at the Sophos stand you can listen to Vanja Svajcer "Typhoid Mary: SophosLabs' research of Linux threats" and an excellent talk by Duck on "Who said JavaScript was easy? Live web-based malware demo."
Or you could just call into the Sophos stand and get some pants!