It was sad but not at all surprising to see spammers exploiting the swine flu topic.
Today we came across a yet another example of Internet "entrepreneurs" being cynical enough to use the situation for their financial benefit.
Rx-Partners is one of many affiliate networks promoting and selling generic drugs online. They do it via a MLM-like network of affiliate "webmasters" who generate and drive traffic to online stores. A successful affiliate would rely on a variety of SEO techniques (often including blog and forum comment spam) to earn their portion of a profit. I don't have a specific example at hand, but there is evidence that some may even resort to an old-fashioned e-mail spam.
Today, the Rx-Partners blog site announced an addition of a new item to the store: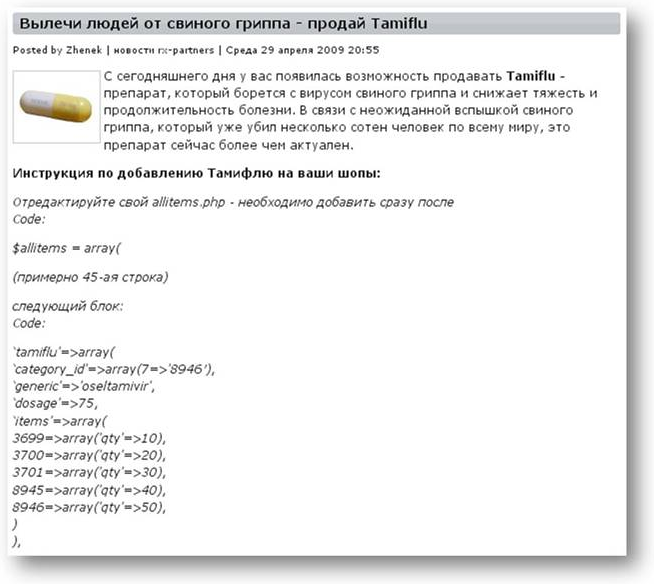 The title says "Cure people from swine flu — sell Tamiflu".
"Starting today, you have an option to sell Tamiflu –  a pill that fights swine flu and lowers severity and duration of the decease. Given the recent outbreak that already killed a few hundred people worldwide, this pill will be in high demand…"
The post is complete with instructions on how to add the pill to your store catalog. The real pill's name is  "Oseltamivir", apparently, which is a generic version of Tamiflu (TM) produced by Indian pharmaceutical factories.
The author of the post and its reader are quite amused by the idea:


"Wishing you good sales, and your customers – happy treatment. 🙂

Comments:

You guys rock! Rapid response and decent prices."
A quick search reveals that RX-Partners is the same network that was offering Tamiflu (TM) as a cure for the "bird flu" during the last outbreak.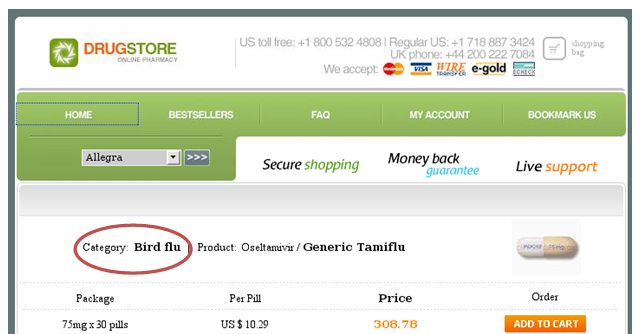 UPDATE (Apr 30):
The idea seems to be working quite well so far. Here is a new blog comment from a  happy affiliate:

"We added it to our stores last night and the results are obvious. 20% of all sales – tamiflu […] If you haven't started yet, do go ahead white the topic is hot!"