Coming back to my computer after a long holiday weekend, I find I have a fair few new followers on Twitter. Thanks to everyone who is following me on the increasingly popular micro-blogging site.
Well, let me rephrase that. Thanks to almost everyone.

Over the last week or so I, and other many other users of Twitter, have found ourselves followed by profiles purely set up to advertise a website called RealBabesOnline.com, which appears to be affiliated with an adult dating site called AmateurMatch.net.
The typical way in which the spammers are trying to lure people to the websites is by creating a profile containing a woman's name, which claims that NSFW ("Not Safe For Work") photos of herself, or a sexy blog post, can be found at the following web link. Clicking on the link, however, takes you via the TinyURL service to a website which declares itself to be "Single and Willing".
Contained on the site is a message, enticing users to sign-up for the AmateurMatch service. Part of the messages reads as follows:

I've been using Amateur Match to find partners for casual fun for nearly 6 months. Every single weekend since I joined I've met with at least one hot guy, girl or couple for no strings attached sex. The amount of people from [Location] on this site will blow your mind and when you see how quick and easy it is to find a willing partner you'll realise this place is an absolute gold mine for people like me who just can't get enough sex.

The site is completely free so sign up now and take a look at some of the hotties on offer.

I use the same username on the site that I use on Twitter, so if you know me from there you should be able to find me (and my pics!). Message me if you can find me:) I'm into guys, girls, couples and groups so if you're near [Location] and like having fun, let's get together!

PS. Here is a sneak peek of one of my pics. There are some much raunchier ones without any blurring in my profile:) xoxo
In the screenshot below you'll see how the website uses GEO-IP information to pretend that the young woman (who is pictured topless with her back to the camera, and her face obscured) lives close to you. In my case, the website claims that the woman lives in Abingdon, Oxfordshire as that's the location of the Sophos office I'm blogging from.
I've cropped the photo before it gets too salacious.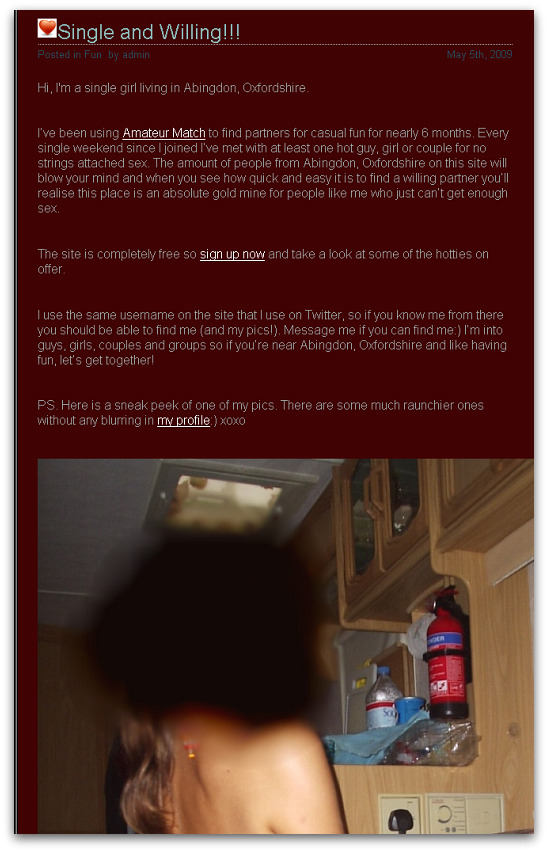 (By the way, I really like that she has a fire extinguisher in the background of her topless photograph. She must be one red hot tamale.)
To their credit, Twitter seems to be shutting down the many profiles spreading these messages quickly, but I wonder how long it will be before the Twitter-spammers pop up using another disguise.
Regular readers of the Clu-blog will know that spammers have been abusing Twitter for some time. Here's a video we made earlier this year catching a Twitter-spammer called Sara in action: