I've written before on the Clu-blog after mysterious Eastern European women contacting me out of the blue, and very keen to make my acquaintance. Typically they're interested in having a relationship, and have kindly attached a picture of themselves.
I shouldn't have to tell you that these are scams – designed to fool you (ultimately) into sending the woman (if the sender really is a woman at all) money or handing over bank account information.
What amuses me, however, is how the scammers could oh-so-easily increase their chances of success.
Take the following example, for instance: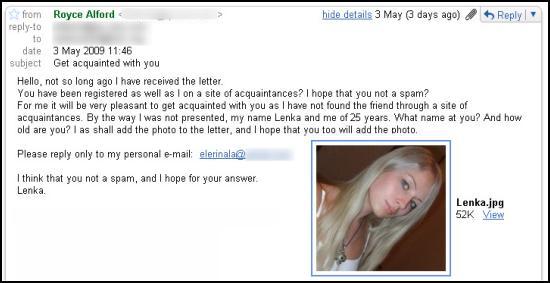 25-year-old blonde Lenka thinks that you are registered on the same "acquaintance" website as her. However, she doesn't seem to know what your name is, your age, or where you live, and doesn't seem to have even seen a photograph of you. It makes you wonder how she singled you out for attention doesn't it?
I especially like the ironic comment, "I hope you not a spam?".
But what takes the biscuit is that Lenka hasn't sent this message from her own email address. Instead, she's used someone else's email address (presumably in an attempt to get past anti-spam filters). And so she's posted this message from err.. a guy called Royce.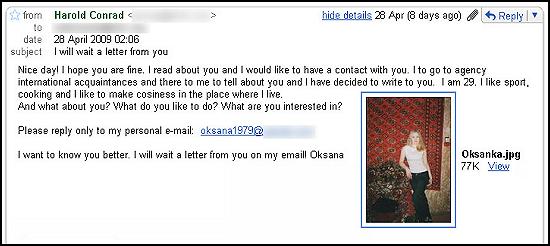 Here's another one. You'll remember that we've heard from 29-year-old Oksana before. Although perhaps this is a different Oksana, as she seems to be masquerading as a chap called Harold.
I think I'll give these girls a miss.