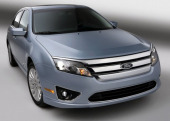 The Ford Motor Company has issued a light-hearted press release debunking a hoax that has been doing the rounds.
The bogus email, which claims to come from a Ford sales manager in Dearborn, Michigan, claims that they are offering 500 of their Ford Fusion Hybrid motorcars at the bargain price of $15,500.
The offending emails read as follows:
Dear Mr/Ms,

Due to the World Economy Recession, Ford Motor Company, Inc undergo a statistic fall in Sales and result in a drastic financial crisis this last season.

The United States Government has given us the opportunity to bounce back on our feet, but unfortunately we have not achieved the fund necessary.

Therefore, we offer you the opportunity to purchase a very good Auto at half of the price. We decided to pull the sales of 500 cars at a very low price for us to aquire the capital needed to bounce back in business and to use this medium to increase the scale of our valued customers.

We offer Ford Fusion HYBRID Model 2010:
Pricing Information: $15,500
Vehicle Features:
Transmission: Aisin Powersplit eCVT Auto
Package: HYBRID
Model: High Version
Engine: 2.5L Atkinson I4
Exterior: White Platinum Tri-Coat Met
Interior: Charcoal Black
VIN: 3FADP0L34AR136254 (more information in the file attached)

The payment shall be made in installments through the bank at 1 month after signing the contract.
If you are interested in this offer please fill out the contact form, A representative will contact you about this vehicle within five business day.

Sincerely,
Gary Settles,
Ford Sales Manager
Ford Motor Company
P.O. Box 6248
Dearborn, MI 48126
Hmm.. as the cars normal basic price is $27,270 that would be quite a saving if it were true.
But according to the AutoblogGreen website, Gary Settles is really the sales manager for a dealership in Lexington, Kentucky, and has "no earthly clue" how his name got attached to the hoax.
It wouldn't be a surprise though if in these cash-strapped times some people fell for the email, or at least passed it on to others – clogging up bandwidth in the process. We haven't seen a sample of the email's attachment yet – but there's obviously the potential for some shenanigans there of a malware-related nature too.
I like Ford's official response though, where they cheekily use the opportunity to advertise their car a little more. 🙂