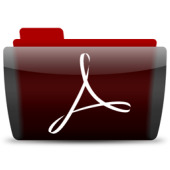 Following increasing concern about hackers taking advantage of security vulnerabilities in Adobe's PDF-reading software, the company has announced that it will be making security updates available on a regular schedule.
Adopting a similar initiative to Microsoft (which releases security patches on the second Tuesday of each month), Adobe has declared that it will issue vulnerability fixes on the second Tuesday of every third month.
This is a timely move by Adobe, whose Reader and Acrobat products have been in the firing line in recent months with hackers targeting vulnerabilities in their code with the aim of infecting innocent users' computers. Indeed, lately it's seemed that we've never been far away from another headline declaring that a new critical security hole abusing the PDF file format has been found.
By linking their patch release schedule in with Microsoft, Adobe will probably encourage more people to update their systems quickly. After all, if you're in charge of a corporate network it's going to be easier to remember that it's this week that all the patches are going to have be rolled out, rather than find yourself scratching your head wondering when the next bumper pack of patches will rear its head.
One question for Adobe though – what about Flash Player? That's been abused a lot by hackers too, and its very widely used on many millions of computers around the world. Will patches for that be released on the same calendar schedule?