I thought I had probably written all there was to say about Klingon Anti-Virus, but looking at the topic again we've uncovered something really interesting.
For a bit of fun, we decided to look at our weblogs to see if there was anything interesting we could determine about the many people who had checked out our Klingon Anti-Virus product in the last few days.
Whether such data is actually useful or not is unclear, but we thought we might as well publish it. (And the folks at Wolfram|Alpha are welcome to it now it's public).
Anyway, we can reveal that the city most densely populated by Klingon speakers is Helsinki in Finland.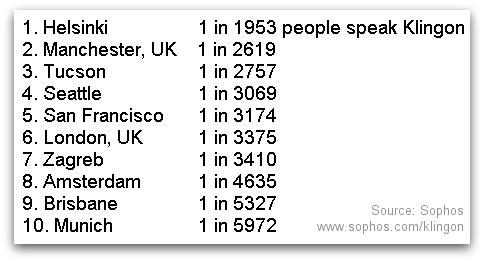 Yes, it can be deduced that an astonishing 1 in 1,953 residents of the Finnish capital speak Klingon (or are perhaps in the early stages of learning the language).
Whether it's a coincidence that our friends at F-Secure – some of whom are well-known for having Klingon-style ponytails – are based in Helsinki is not clear.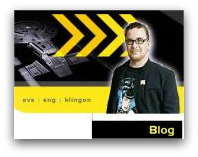 But I did manage to find reports of a Finnish Green politican who runs his website in Finnish, Swedish, English and yes.. Klingon.
Meanwhile, in second place we have Manchester – home town of Oasis's Noel and Liam Gallagher (who look and act quite a lot like Klingons if you ask me).
Regardless, the uptake in Klingon Anti-Virus has been considerable, and surprised all of us here at Sophos – could it be Klingon-speakers are more security conscious than Humans?
Small print: We used some GEO-IP look-up tables to help us determine the nearest city for just about everyone who visited our site, and then divided by the population of the city. To prevent any statistical weirdness (like 1 in 695 people in the peculiarly strange British town of Milton Keynes being named a Klingon-speaker.. yes, really) we chose to ignore any city with less than 200,000 people. Yes, I know this doesn't sound very academic – but we didn't have the USS Enterprise's Science Officer to lend a hand.