The guys in marketing have been busy refreshing the front page of the website, and some other areas of the site.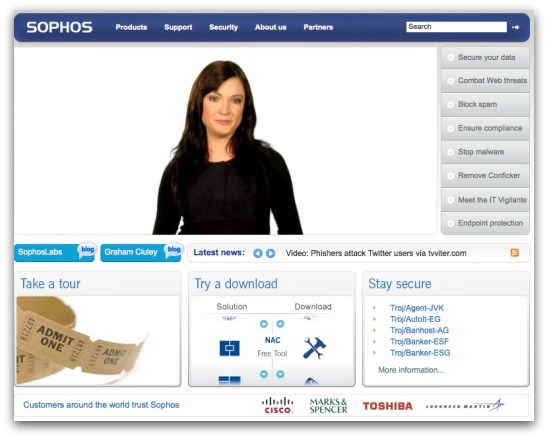 Perhaps the first thing you'll notice is that we have a bunch of videos talking about the various issues companies face, and talking through our solutions. I think the videos are pretty neat – easy to understand and not force-feeding you buzzwords and sales spiel. Just the ticket in fact!
Another thing that's great, is that you now have a permanent link right there from our homepage to the SophosLabs blog and (blush..) the Clu-blog. How fantastic is that?
I'm not so keen on the "Try a download" widget. I find it a bit fiddly – a bit like trying to set the combination on your bicycle lock – but I'm sure any little gremlins like that will be ironed out in the coming weeks.
Oh, and I can't sign off without at least giving a passing mention to the "IT Vigilante". He's the guy in the bright orange gimp suit, who never properly recovered after a security disaster a few years ago.
There are a few videos of him over on the IT Vigilante website. I'm going to see if I can interview some of the marketroids to get the background on this chap, and how they came up with the campaign. Watch this space, and maybe we'll have some more information in the coming week or so.
If you have any comments please feed them back to me at gc@sophos.com. I can't fix them myself, and may not be able to answer your questions, but I can certainly pass your comments on to our web and marketing teams.