I didn't believe them when they told me, but apparently today is the 10th anniversary of me joining Sophos.
Sophos wasn't my first job in the computer security industry. In December 1991 I went for an interview at S&S International (later to be known as Dr Solomon's Software), and was fortunate enough to be hired by Alan and Susan Solomon as their first Windows programmer.
That made me a gulp a bit as I'd never written a program for Windows before, and trying to write any code that would remain stable for very long under Windows 3.0 was quite a struggle. But still, hey, it was a job and these virus things were kinda interesting – at least more interesting to me than writing accountancy software.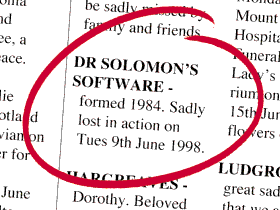 I had a great time at Dr Solomon's until June 1998, when it announced that it was going to be bought by a company called Network Associates or NAI.
As you can see to the right, Sophos put out a cheeky advert announcing the death of their arch-rival in the British corporate anti-virus market.
If you don't think you've heard of NAI then that's probably because that company was going through something of an identity crisis itself, flitting between calling itself McAfee Associates, Network Associates (after acquiring Network General), and eventually reverting back to the most sensible name it continues to use to this day – McAfee.
A few of my old colleagues still remain at McAfee over ten years later.
Ultimately though (well, after a few weeks), I knew McAfee wasn't the place for me. And they let me spend some time in my garden, running around after my new kittens, Cadbury and Marble.
And so it was that I joined Sophos some seven months later, my time in the deckchair having all run out.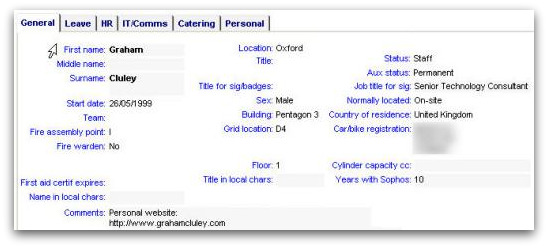 Originally they didn't just have me dealing with anti-virus stuff – they also put me in charge of the fledgling web team, lead by the mysterious and inscrutable Andrijana.
There's been a lot of changes at Sophos in the last 10 years.
Back then I was the 84th person to have been put on the payroll, and now there are more than 1500 of us. We've also moved buildings to our custom-built super-swanky headquarters (protected by a moat, no less!) which were officially opened by Her Majesty The Queen five years ago.
The Queen's visit with the Duke of Edinburgh (I tried to engage him in conversation about the lack of toilet lids in our loos – a long-running bugbear of mine) was one of the few occasions when my desk was properly tidy during the last ten years.
Andrijana – who has remained impenetrable – quickly proved that she was much more capable of running a web team than me and took them to new heights before jumping ship into other mysterious impossible-for-me-to-understand roles inside Sophos.
And I was fortunate enough to have a great team of colleagues to help me spread the word about computer security to the masses.
So thanks to Natasha (who was lost in action at the tail end of 2002, and was last seen heading for jobs at MessageLabs, RSA, and SAP), Carole (who on her first day found that I had left the country for a few weeks just as the Avril Lavigne virus shook the world) and Yogi (whose hands performed so beautifully in the WebAlert video we made with children's toys).
All of them have had to deal with me over the years, and my very untidy desk..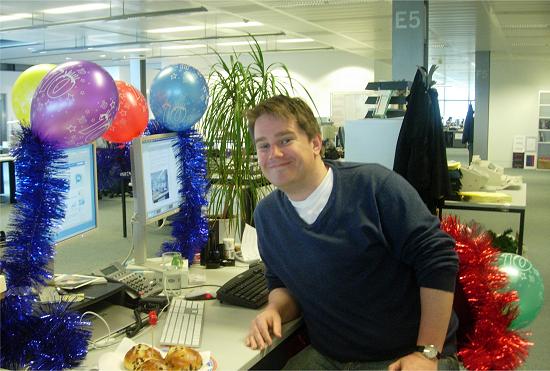 If you pass by my desk today you my be able to find a large box of chocolates under the rubble – feel free to help yourself.