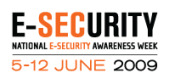 Sophos Australia is supporting the annual National E-security Awareness Week, in order to help raise awareness about the importance of e-security among folks down under.
The week, being held from 5-12 June this year (I'm baffled as to why they would start the week on a Friday, but never mind maybe it keeps us one step ahead of the bad guys), will help inform home users, students and small business about the simple steps they can take to protect themselves, their families and their businesses online.
A range of events and activities are being held around Australia in metropolitan, remote and regional areas to help Australians understand e-security risks.
Sophos will be participating in regional events in Dubbo and Albury, and also holding its own E-security Signature Lunch in Sydney.
Campaigns like this to raise awareness of how to properly secure yourself online are really important, and websites like www.staysmartonline.gov.au help provide information for Australians on how best to protect themselves from scams, infections and identity theft.
According to media reports, last Saturday was designated National Change Your Password day. The following video explains how you can choose a password that is hard for the hackers to guess, but easy for you to remember: