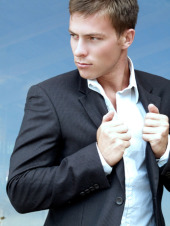 My brother-in-law John Bacon is a good-looking young chap, and recently started working as a model while he was living in Costa Rica.
He's back in the UK now, and received an email from a London-based modelling agency offering him work:
Hello , Hope you are having a great time?

Your profile was seen and scrutinized on www.modeltaget.com and I am emailing to seek your interest on a 7 day Photo-Shoot session which is billed to start 22nd of June 2009 here in the United Kingdom. If you are interested, email me on creative.talents@live.com for all the detailed info.

Best Regards,
Bruce Brand.
Creative Talent Agency.
Clearly they thought he was still based in South America.
A later email confirmed that the agency was offering "6 International Talents/Models a 7 day Photo-Shoot contract". In fact, the agency said that they would pay John an astonishing £40,000 for the week's work, plus a generous travel allowance and a paid-for swanky hotel suite.
Sounds too good to be true, right? And that's the point where John smelt something fishy and asked me to look into it.
A few things about the email John received struck me as suspicious.
For instance,
You will be working with a few Local Photographers and Studios, and picturesque locations such as beaches, parks and hilltops. This is a direct Job offer not a casting or an audition. The idea of including Foreign Talents and Models to be a part of this shoot was conceived rather late so time is a little far spent so you are advised to respond very swiftly to this Job proposal and let us know if you are ready to proceed. This Agency CREATIVE TALENT AGENCY has been saddled with the task of providing 6 Foreign Talents and Models from across the World. We totally scrutinized your full profile and seemed good enough for the Job which is why we have contacted you but the final decision to be a part of this shoot will be taken by you.
So, they're offering John 40,000 quid even though they've never met him or asked him to attend a casting? His portfolio might be good (check out some pictures of him for yourself), but he could have stuffed himself with hamburgers and bloated out since his return to the UK.
And £40,000!? John's not exactly a well-known name in the modelling world.
A quick check of the agency's website reveals a rather amateurish affair. In fact, it's on a free webhosting service, and still includes the banners revealing that this international modelling agency doesn't pay a penny for its website!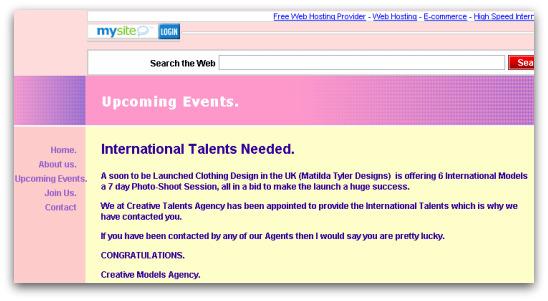 Here's another section of the email:
All you are required to provide for this Job are a VALID PASSPORT, A UK WORK PERMIT and A UK MODEL LICENSE/CERTIFICATE (from the British Home Office and office of the British Fashion Council here in the UK), that is if you have never had a paid Job in the UK but if you possess a valid EU Passport, it means you will not be needing the Work Permit but will need just the UK Model License/Certificate.

You will be receiving an upfront payment of 50% of the contract sum plus the travel allowance (21,500 Great Britain Pounds) after you must have gotten the necessary documents or started the process that will stand as proof that you will be honoring the Job. This Job is billed to start on the 22nd of June 2009 as already know so you are advised to approach this offer with the urgency it requires and if the timing does not suit you, endeavor to let me know and we will seek an urgent replacement for you.
Sounds good, doesn't it? They're going to pay him over £20,000 up front. Marvellous! The only thing John has to do is produce those documents – his passport, a work permit and a UK model license.
Oh, and he better get a move on as the job is due to start in just over a week's time.
And that's where the catch is. A quick Google revealed a number of models who over the last few years have been struck by identical scams. It appears that the scam is that the con-artists will "help" you in your rush to get your paperwork together by pointing you towards bogus solicitors who will leave you out of pocket, and possibly with a stolen identity.
My guess is that the people behind these scams are the same folks who are behind many of the "Letters from Nigeria" and 419 scams that we see on a regular basis.
If you're interested, read more about these scams (and another internet user who received an identical email to the one John received).