Looking through the daily avalanche of spam intercepted in our traps can be a soul-destroying job. Take this email, for instance, with the subject line "Hello! This is Sherrie from last Friday video shoot."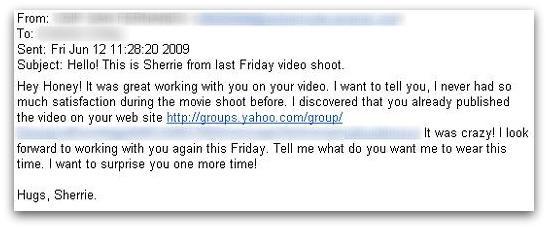 Sherrie says that it was great working with you on the video and that she's never had so much (ahem..) "satisfaction" during a movie shoot before.
Now, I think there's a pretty high chance that you didn't make a sex video with Sherrie last Friday, let alone that she found it highly satisfying, so why oh why do you click on the attached link?
It's not even as if you find out who Sherrie is if you do click on the link. Instead, you get taken to X-rated content on the Yahoo Groups network claiming to be nude photographs of Hollywood actresses including Rachel Weisz, Angelina Jolie, Denise Richards, Natalie Portman, Megan Fox, Jessica Alba, and Lindsay Lohan.
But hey – don't let that be a reason for you to click on the link either. The pornographic photographs are undoubtedly bogus.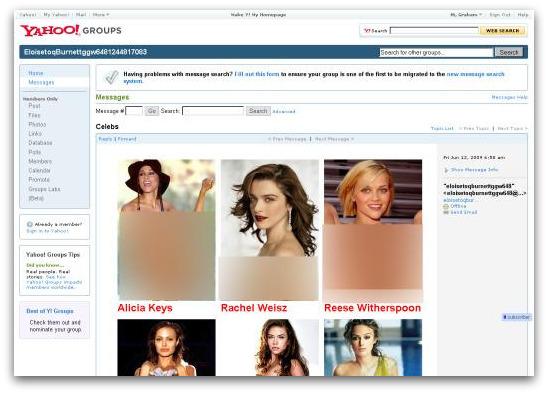 Every time you fall for a spammer's trick like this you're increasing your chances of visiting a malicious webpage, having spyware installed on your computer on your PC or earning a few cents more for the spammers through advertising pop-ups.
Don't make life easy for the spammers – don't click on links in unsolicited emails like this. Instead, consign them to the garbage can.