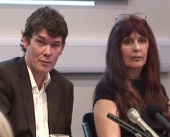 According to ZDNet, the high court is set to hear a London-based hacker's application for judicial review of a previous decision by the Crown Prosecution Service (CPS) not to prosecute him in the UK.
Lord Justice Stanley Burnton and Mr Justice Wilkie will hear 43-year-old Gary McKinnon's application for a judicial review on 14 July.
McKinnon was arrested seven years ago, after allegedly hacking his way into computers belonging to the US Army, US Navy, US Air Force, Department of Defense and NASA.
The self-confessed hacker claims that he broke into the computer systems only to hunt for top secret information about anti-gravity propulsion systems and alien technology which he believed the authorities were hiding from the public.
For their part, the US authorities have claimed that McKinnon (who was known by the handle "Solo") caused nearly a million dollars worth of damage, shutting down systems responsible for tracking the location of naval ships, and protecting Washington DC.
As I've said before on this blog, my personal opinion is that it is perhaps inappropriate to make an example of a UFO conspiracy theorist when the really serious crime is being carried out by financially-motivated hackers, stealing identities, sending spam and creating botnets.
In fact, it seems quite possible to me that McKinnon is being used as a whipping-boy by a country embarrassed about the poor security of its computers in the days after September 11, 2001.
Yes, a strong message must be sent out to hackers that their activities are unacceptable. But there is clearly a difference between cybercriminals doing it for money and amateurish oddballs like McKinnon doing it for kicks.
It seems I'm not alone in feeling for this. McKinnon and his numerous supporters have waged an impressive campaign to keep his case in the papers. It remains to be seen, however, whether it has a chance of stopping him ultimately being extradited to the USA.