It really annoys me when I look at a spam message and don't understand its intention. This is what happened today, when I saw a strange campaign that hit our spam traps when I was finishing my weekend work shift:
ur cute, msg me on MSN

my MSN name is <censored>@live.com

ttys cutie :-*
It was sent from a botnet, contained varying e-mail addresses and had minor content randomization.
I've never used MSN Messenger before, but this was a good enough reason to get myself a special account: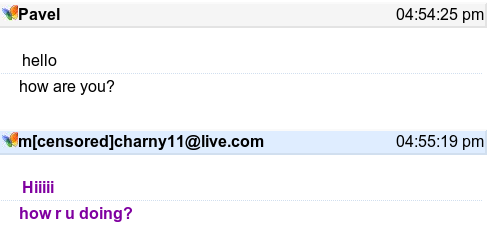 Great! The contact established!

And the spam's nature starting to make sense…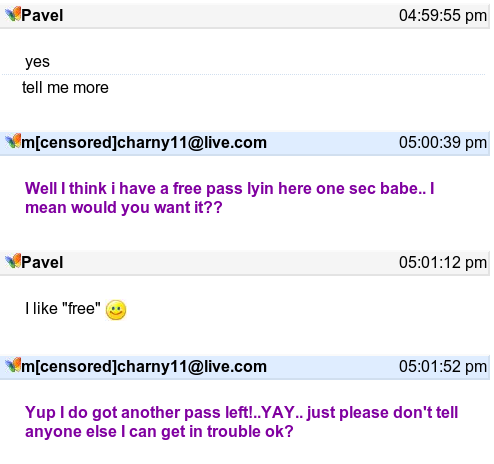 Indeed… We should trust each other…

Bingo!
The domain is registered anonymously in May 2009. Is hosted on CHINANET-YN. And belongs to a member of ClickCash.com affiliate network promoting adult-oriented websites. At least we've found out who is sponsoring the spam campaign, but lets keep talking:
Me: are you Sarah?

"Sarah":  just put in your name and email address, and then it will take you to a page to get your free chat handle
Me: sweet. what country are you from?


"Sarah": you have to fill out the user profile on the site to get your free registration and to prove you're over 18 make sure you put real info because they verify it


Me:  it asks me for a credit card. you said it's free to try


"Sarah": alright baby you need 2 agree ur not a minor but baby u need to prove it with a cc/debit


Me: what if it's a scam?


"Sarah": The free package is what I use to access the site free and now u can too The free pass cancels everything out automatically. so ur all set to see me once u verify ur age babe
It's getting strange now. Is she too busy to conduct a meaningful conversation?
Me: how many people do you have to chat with at the same time? 🙂


"Sarah": CC is just to verify your age hun it doesnt charge your card i promise its the sites policy to ensure no minors get access to the site .. i gave u the free pass..
Well, I should have noticed it sooner…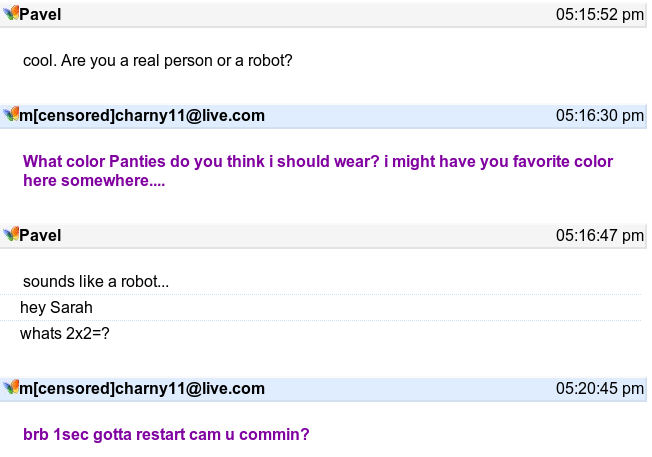 I almost started to enjoy the conversation!  🙂
I guess the next stage will be robots replacing real girls behind the web cams.