It has been a quiet and sunny Sunday afternoon here in the SophosLabs Canada. With time on hand, I spend some time digging the archives to see if any new Michael Jackson-related spam have arrived in the past hours.
Here I will point out a few of the more interesting ones. There are the music, the meds, and the totally off-the-wall messages:
First up is a message that asks you to vote on "What killed Michael":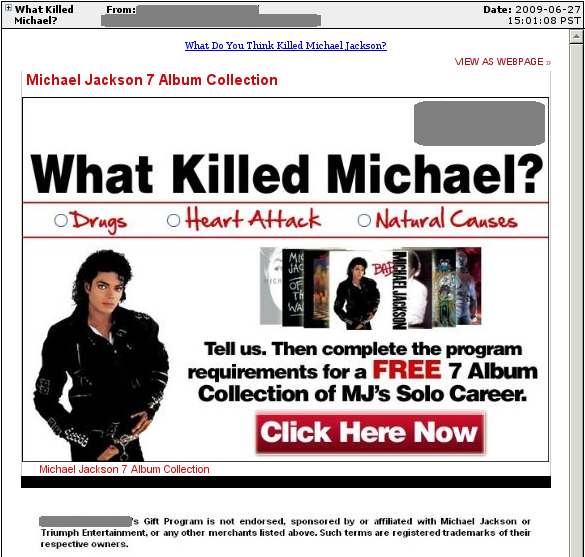 In the message, a participant is supposed to get a free 7 album collection of Jackson's songs for participating in the survey and "completing program requirements". Just like the other "completing program requirements" spam messages, it's likely there are hoops to jump through and purchases to engage in before there is any chance to receive the "free" items. Sadly, I am inclined to believe that there will be people out there who will try to participate in the survey to get the albums.
Next up is a spam message declaring that "Michael Jackson is not dead":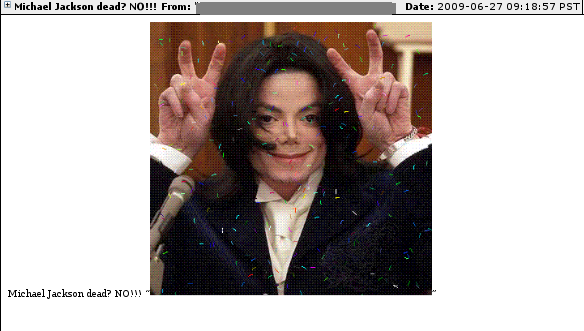 This message has the hallmark of the image spam that have been so prevalent in recent days. In particular, the image of Michael Jackson has random, short, colored lines all over, often used to defeat antispam scanners. The curious will probably click on the image hoping to see evidence of Michael being alive. However, all that will do is take the surfer to a "Canadian Pharmacy" site selling the usual assortment of Viagra, Cialis and other pills. No evidence of Michael Jackson being alive. Sorry folks.
The last of the three messages is a "Rent your timeshare" spam: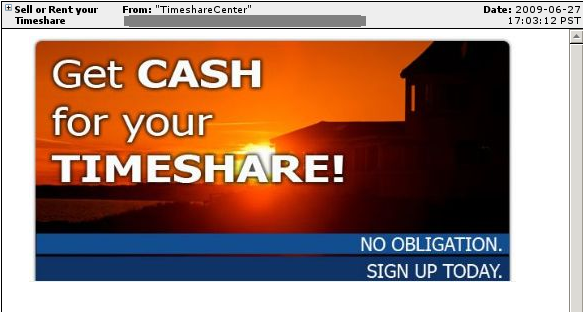 So, what does this message have anything to do with Michael Jackson's demise? The answer is in the source of the spam message: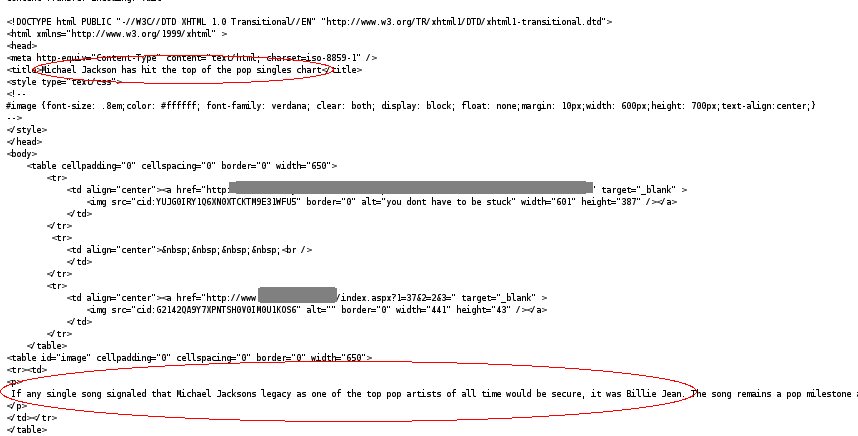 The two circled text sections are Michael Jackson-related:
"Michael Jackson has hit the top of the pop singles chart"
"If any single song signaled that Michael Jacksons legacy as one of the top pop artists of all time would be secure, it was Billie Jean. The song remains a pop milestone and masterpiece. …"
As it is commonly known in the antispam circle, phrases from headline news and novels are regularly inserted into spam messages in order to defeat content and probability-based antispam scanners. Other than the hidden mention of Michael Jackson, this is just another one of typically-seen spam messages.
After digging through our spamtraps, there is still no evidence of large volume spam campaigns involving the deceased pop icon. It still remains to be seen how else would spammers and malware authors take advantage of this widespread and much-followed news.