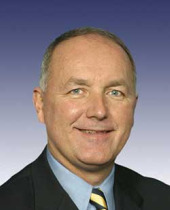 Congressman Peter Hoekstra, the lead Republican on the House Intelligence Committee, has urged President Barack Obama to launch a "show of force or strength" against North Korea, for its alleged part in a series of distributed denial-of-service attacks in the last week.
Hoekstra told The Washington Times' America's Morning News radio show says that "it's time for America, South Korea, Japan and others to stand up to North Korea" by launching a retaliatory cyber attack or international sanctions.
According to Hoekstra, if action is not taken, "next time they'll go in and shut down a banking system … or manipulate the electrical grid either here or in South Korea. Or they will try and miscalculate, and people will be killed."
You can hear the Michigan politician in full flow in the clip below:
There's only one problem with what Hoekstra says – it's complete nonsense.
No evidence has been produced showing that the government of North Korea are behind the denial-of-service attacks. As I explained in an earlier blog post, a hacker can be based anywhere on Earth and command a worldwide botnet to bombard websites with traffic.
Despite Hoekstra's claims – attacks like these don't need the backing of the state. They can just as easily be co-ordinated by a 16 year old boy working alone in his back bedroom.
If Mr Hoekstra has been advised by internet experts that the attacks definitely came from North Korea, I would politely suggest that he finds himself some new internet experts.
By the way, this isn't the first time that Pete Hoekstra has found himself at the middle of a computer security story. Regular readers of the Clu-blog will recall that earlier this year he potentially put his own life (and those charged with protecting him) at risk after he carelessly used Twitter whilst in a helicopter over Baghdad.