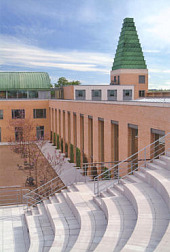 I was fortunate enough to be invited to speak earlier today at the Oxford University ICT Forum (ICTF) Conference about social networking threats.
The conference is being held at a fabulous venue, the Said Business School, which is famous for its modern interpretation of one of Oxford's legendary dreaming spires. Clad in copper, it's more of a ziggurat than a spire – but truly magnificent.
Hundreds of staff tasked with the job of securing the systems of Oxford's many colleges were in attendance, listening to the likes of Chas Tomlin from Team Cymru and Microsoft's Ed Gibson, talking about emerging malware threats and how lawmakers are responding to a very modern problem.
My job though was to spend an hour or so discussing the dangers that can lurk on social networks like Facebook and Twitter, and how organisations can best defend against them.
That's a particular challenge for IT administrators who work in the educational sector of course. Some of my audience mentioned that they struggle not only with students (who understandably want to use social networks left, right and centre – particularly if they are far away from home) but also with academics who – or so I was told! – feel they have a god-given right to never be controlled or limited in any way with what they want to do with "their" computer!
If you weren't able to attend today's conference, here's a podcast I recorded earlier this year where I discuss some of the security concerns around social networking:
Oh, and before I nipped back to the office, I had a flashback to the dim, dark past. After my talk a chap walked up to me and shook my hand. Turned out it was my old colleague Neil who I hadn't seen hide nor hair for umpteen years, when we both landed jobs as programmers for Dr Solomon's Anti-Virus Toolkit in the early 1990s. Cue much reminiscing about the old days… eeh bah gum.