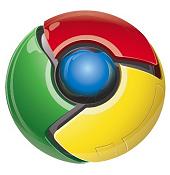 Hot on the heels of a serious security update for its rival Mozilla Firefox, Google has released version 2.0.172.37 of its Chrome web browser which fixes a couple of security holes that could be exploited by users visiting a booby-trapped website.
According to a statement on Google's Chrome release blog, the more critical vulnerability might allow a hacker to run code with the user's privileges.
If you're running Google Chrome then it should be automatically looking for updates via its self-updating facility.
Hopefully this vulnerability won't matter for most of you though, as judging by the stats for web visitors to the Clu-blog only 3.61% of you are using Chrome. That's behind Firefox and Safari for Macs at 3.95% and 5.40% respectively, and the titans of Firefox for Windows at 30.33% and Internet Explorer for Windows at 49.86%.