Last week Graham blogged about Addfollowers spam on Twitter gathering usernames and passwords. Earlier today I saw a very similar series of tweets and had a closer look. It seems that the folks behind Addfollowers have been busy in the last week. They have set up at least half a dozen more sites to do exactly the same thing.
July 13 – addfollowers.net
July 15 – extrafollowers.com
July 20 – addfollowers.info
July 20 – thousandfollowers.com
July 20 – easyfollowers.com
July 21 – quickfollowers.com
July 21 – followersfast.com
All these sites offer exactly the same service and produce exactly the same Twitter spam, complete with identical grammatical mistakes.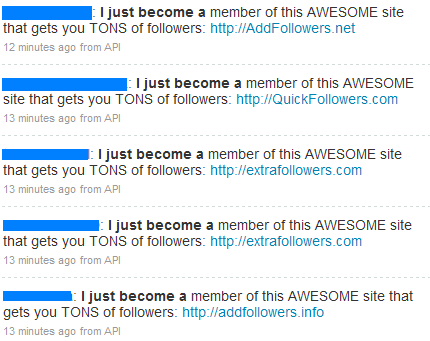 As ever, don't give out your usernames and passwords to anyone no matter how many followers they promise you.