On Sunday morning I discovered that hackers were taking advantage of the notorious Erin Andrews peephole video to infect the owners of Apple Macs and Windows PCs.
It seemed like a good opportunity to make an educational video about the threat which would warn people not to search for the video, which was made without the knowledge or consent of the glamorous ESPN sports presenter as she dressed in her bedroom, and show how easy it was to stumble across a malware infection.
I posted the movie up on YouTube in the SophosLabs video channel, and by today it had received over 180,000 views and been linked to by sites including The Register, The Huffington Press and CNN. That's a pretty impressive result by our standards.
Unfortunately at 4am this morning I was made aware that YouTube had banned the video, preventing users from watching it. The stated reason? "Inappropriate content".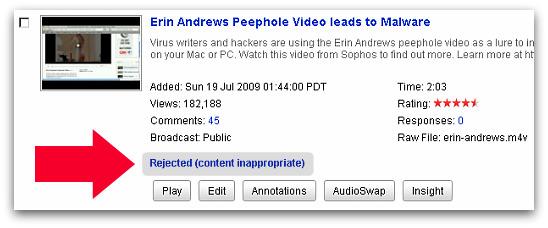 That's a real shame, because right now thousands of people are searching for the Erin Andrews peephole video, and a fair proportion of them may have watched my video instead – preventing them from falling into the hackers' trap.
My only guess is that YouTube is desperately trying to clean-up its database, removing content related to the Erin Andrews peephole video, as so many mischief-makers have been posting questionable material.
It's true that my video does include a still picture from the video on the malware website which starts with a picture that is allegedly from the allegedly video allegedly of Erin Andrews (who I had never heard of before this weekend). If that's the reason why the video has been pulled it would be nice to know that, and then maybe I would be able to produce a new version for YouTube which can help warn their millions of users of the malware threat.
Unfortunately, I can't find any way to contest the judgement on my video, or details on how to contact a human being at YouTube other than via snail mail.
In the meantime, if you'll feeling bold, here's the video on Vimeo. You can decide for yourself if it's unadulterated filth and should be banned.
(Enjoy this video? You can check out more on the SophosLabs YouTube channel and subscribe if you like)
Update: I've uploaded a new version of the video to YouTube, with the possibly-offending pixels of a posterior blurred out. Maybe that will help.