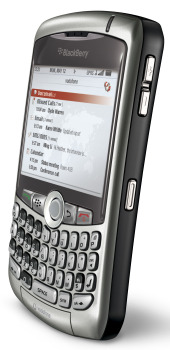 If your customers think that you tried to spy on them, that's not going to be good for business.
That's the message that's presumably being heard loud-and-clear by telecoms company Etisalat, which has found itself in the middle of a storm of negative headlines after it was revealed that an update it sent to BlackBerry users in the United Arab Emirates, which claimed to improve performance of the mobile device, was actually spying on them.
RIM, makers of the Blackberry smartphone beloved by businesspeople around the world, say that the spyware update sent out by Etisalat actually worsened battery life and reception, and (most worryingly) was designed to "to send received messages back to a central server."
Potentially, the patch gave Etisalat the ability to read any emails and text messages sent from their customers' BlackBerry devices.
Now, an online survey conducted by the Arabian Business website reveals that more than 50% of Etisalat's BlackBerry customers are planning to ditch the UAE telecoms provider in the wake of the spyware. It's hard not to feel sympathetic with those aggrieved customers. After all, as Erin Andrews just demonstrated, no-one likes to be watched without their knowledge.
Curiously, the offending patch appears to have been written by a US-based company called SS8, who develop electronic surveillance solutions for intelligence agencies.
Quite why Etisalat may have wanted to distribute a spyware update to monitor its customers is still unclear. So far they have declined to comment on the claims of spyware, restricting their public comment on the matter to the following statement:
Etisalat today confirmed that a conflict in the settings in some BlackBerry devices has led to a slight technical fault while upgrading the software of these devices.

This has resulted in reduced battery life in a very limited number of devices. Etisalat has received approximately 300 complaints to date, out of its total customer base which exceeds 145,000.

These upgrades were required for service enhancements particularly for issues identified related to the handover between 2G to 3G network coverage areas.

Customers who have been affected are advised to call 101 where they will be given instructions on how to restore their handset to its original state. This will resolve the issue completely.
RIM has published an update which removes the application from affected BlackBerry smartphones.
I think I'd rather follow RIM's advice on this occasion.