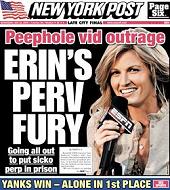 The internet is still abuzz with talk of the video of Erin Andrews, the ESPN sports reporter who was covertly filmed naked in her hotel room.
In fact, "Erin Andrews Peephole Video" and "Erin Andrews Peephole Pictures" seem to be some of the hottest terms that people are searching for on the web right now.
As I reported back on Sunday, hackers have created webpages claiming to contain the controversial footage that Erin Andrews' legal team are trying to have wiped off the net. The cybercriminals are not doing this because they want to share the unauthorised footage, however. Their interest is to infect your computer with Mac or Windows malware.
That doesn't seem to have deterred many people from searching the internet for links though, and many news blogs and sites like Twitter are chockablock with messages that claim to point to the forbiddden video footage.
However, you need to be really careful – even if you receive one of these dodgy links from a friend or colleague.
One of the peculiar aspects of the Erin Andrews Peephole Video attack is – unlike the frequently seen malware which claims it will lead to a naked video of Angelina Jolie or the Anna Kournikova worm of old – that it can show you footage of what appears to be Erin Andrews in her hotel room.
Why does this matter? Well, it may mean that users click on these links, get infected on their Mac or Windows PC and then forward the link so their online buddies can also "benefit" from the sleazy footage not realising that they are helping the hackers catch more victims.
(Enjoy this video? You can check out more on the SophosLabs YouTube channel and subscribe if you like)
There's a lesson to learn here I think. Stop being sleazy, and maybe less unpleasant things will happen to your computer.
And talking of sleazy, the New York Post has found itself in the bad books of ESPN, the TV network that Erin Andrews works for, after they published nude photographs from the video. According to news reports, the station has banned New York Post reporters from appearing on its programmes.