Over half a million credit card details may have been compromised, following a security breach at more than 4,000 ecommerce websites hosted by Network Solutions.
Network Solutions announced that it found malicious code on servers supporting some of its customers online stores that could have been used to transfer confidential card information.
According to the firm, between March 12th and June 8th 2009, details of approximately 573,928 cardholders appears to have been captured by the malware.
This obviously has the potential to be a public relations disaster for Network Solutions – not only for the people who have had their credit card information stolen, but also for the merchants (many of whom will be small businesses) who are bound under various state statutes to inform their US customers when the security of their personal information has been compromised.
Network Solutions, however, is smart enough to know that it needs to work quickly in situations like this to make the best of out of a bad situation. For instance, it makes some play out of the fact that it has engaged with social media sites and bloggers to spread information and advice about the crisis, and how affected individuals and businesses should respond.
Indeed, when I first posted on Twitter about the story, I was very rapidly tweeted back by someone at Network Solutions – providing a link to www.careandprotect.com, where they had further posted further information.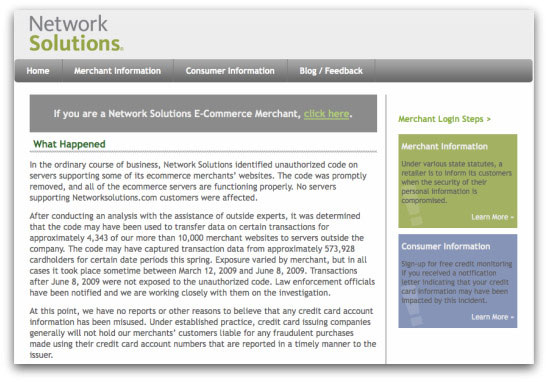 Network Solutions is working with the authorities to try and determine who is responsible for the security breach.