Apologies dear Clu-blog readers, as I've let you down.
Earlier today I blogged about an "exclusive" report in The Daily Express newspaper claiming that MI5's website had been compromised by hackers. (You can read that original blog post here).
Lucian Constantin, a news editor with Softpedia, has been in touch to shed some light on the story. It turns out that the Daily Express's story is both not an exclusive, and also not accurate.
Softpedia, for instance, reported on how hackers had demonstrated a proof-of-concept XSS attack on MI5's website over a week ago.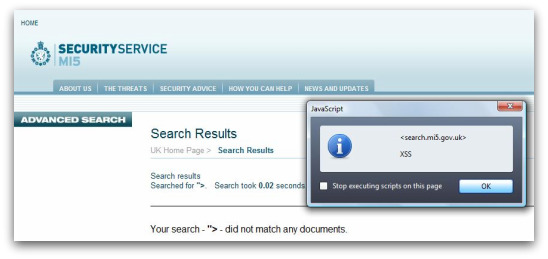 What appears to have actually happened then is that a cross-site scripting weakness was found on MI5's website by Team Elite, who claim they informed the administrators of the website in advance.
So, Lucian suggests (and I agree with him), it appears that The Daily Express heard about the MI5 website flaw and then presented possible ways that the flaw could be exploited by hackers as fact.
Obviously it's not a good thing to have a XSS flaw on your website, but that's far removed from the Daily Express story which suggests that hackers had been able to steal information from site visitors or installed malware.
Thanks to Lucian for his help in getting to the bottom of this story.